"Balbriggan Braces Dublin Orthodontic Clinic will look after you through every step of your orthodontic treatment, from initial consultation through to removal of your brace and one year post-treatment care. Please contact us for a free consultation to discuss the cost of your braces.

Dr. Aileen Griffin

Balbriggan Braces
Dr Aileen Griffin grew up and went to school in Balbriggan before moving to Wales to study Dentistry at Cardiff University. Following graduation in 2007 she undertook Vocational Training in a general and orthodontic practice in Swansea before returning to work as a general dentist in Balbriggan Dental Care. From here she undertook postgraduate study in Warwick University and now concentrates solely on offering Orthodontic services in Balbriggan Braces.
Maire joined the practice in 2014.She qualified as a dentist in 1986 from UCC. Maire completed a clinical attachment in Orthodontics at St Marys Hospital London 1996. She has limited her practice to Orthodontics alone since 1997 when she joined a Specialist Orthodontic practice in London where she worked for 18 years. Maire is a user of multiple Orthodontic systems with a special interest in the Damon system and Dentofacial Orthopaedics . She is a regular attendee of Orthodontic courses and Conferences.
Dr Morgan graduated with an honours degree from Dublin Dental hospital,Trinity College in 2006. He is a very popular dentist and has worked in Balbriggan Dental Care for 10 years providing general dentistry to the community. James has decided to focus his attention and skills in the area of Orthodontics and is in the final stages of completing an MSc in Orthodontics from Warwick University.
Daniela is our Specialist Orthodontist who is on the Irish Dental Specialists register(reg. no. 12DS13). Daniela completed her undergraduate dental degree and specialist training in Romania and has gained her expert Orthodontic experience working in both hospital and private Orthodontic practice settings in Romania and Ireland. She now shares her working week between Balbriggan Braces and a private practice in Lucan. Daniela offers comprehensive Orthodontic treatment using cutting-edge techniques systems.
Jane is from Drogheda and attended Our Lady's College Greenhills, Drogheda. Jane studied Pharmaceutical Science in Dundalk Institute of Technology before attending Drogheda Institute of Further Education to study Dental nursing. Jane was awarded student of the year when graduating in 2014. Jane has an occupational first aid certain in CPR and AD.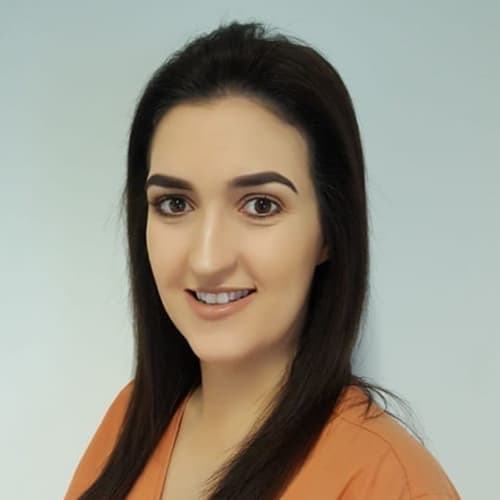 Hazel graduated as a dental nurse with distinction from Dublin Dental Hospital in 2010. She went on to work in Blackrock Clinic where she gained a vast amount of experience in Oral Surgery, Implantology, Periodontics and Prosthodontics. Hazel joined Balbriggan Braces in August 2013 and now manages all aspects of patient care within the Orthodontic practice. Hazel received a diploma in Dental Radiography in 2016 and is due to graduate this summer with a diploma in Orthodontic Therapy from Dublin Dental Hospital and Trinity college.
Danielle is from Crumlin and went to school in Presentation Terenure. She studied Performance Arts in Bull Alley and has a diploma in Computer skills. Danielle spent 14 years in supervising and management positions in the retail sector. In 2017 Danielle decided on a career change and entered the dental field. She began as a general dental nurse and worked her way up to Orthodontics. She hopes to return to college in the near future to expand her skill set in the dental area.